06.01.17
The Party Crasher: Christian Louboutin Spring/Summer 2017 Lookbook
Party goers be warned, this season brings another murder mystery to Louboutin World! Forget the champagne, for this soirée you'll need a magnifying glass and police tape. Continuing the film noir theme from last season's indelible Who Killed Amazoula?, Spring/ Summer 2017 presents a new thriller—but this time the killer hasn't been so careful...
Our tale begins at a chic hotel in Paris where two girlfriends gather, preparing for a blowout night with an eclectic stash of Christian Louboutin Spring/Summer 2017 shoes and leather goods in tow. From the Nail Colour seen on their fingertips to the rainbow strass-embellished Mini Paloma handbags on their shoulders, these girls are ready to hit the town, Louboutin style. A sea of glossy flats, exotic city boots, glitter wrapped platforms, glowing pumps and strappy sandals wash over the hotel room, begs the question, "Which pair should I wear tonight?"
Marked by an outlandish and celebratory attitude, this season's styles take Christian Louboutin's mastery of mixed-material to supreme limits. Appearing in the Parisian suite, a gang of after-hours looks are called in for the line-up. First up, Estradouche 100, an exquisite combination of shimmering Glitter Tisse Cassis and Metal gold grained leather with minty green Bora Bora specchio cross straps and a leopard print pony Safari heel is finished with a glittering gold buckle at the ankle. A wildcard in the cross hairs, Madame Menodo 120 dons a v-shaped décolleté finished with an ultra-feminine handmade bow in a conspicuous, multicoloured Ayers Moreila in blue, Rougissime and Sunshine water snake. Among the bacchanal of styles, Kadreyana 100 shows some skin baring a Glitter Tisse Cassis toe-box and a radiant orange nappa laminato cage on a green, tinsel-sheathed heel.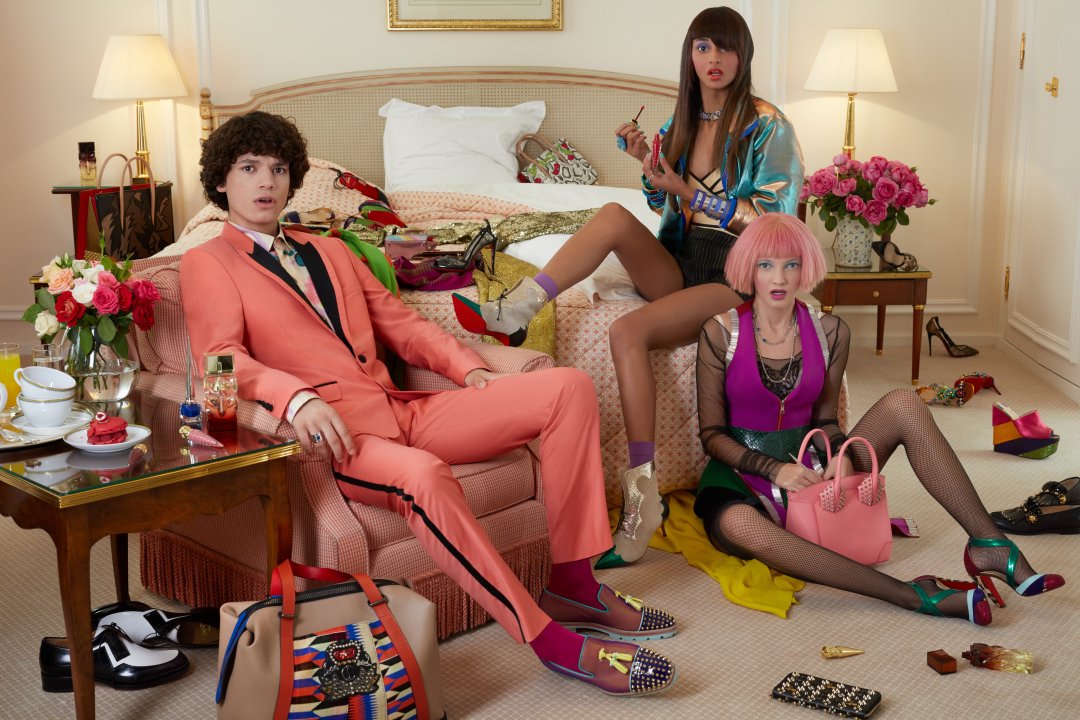 Taking the investigation deeper into the collection, Soclodeo 120 clog sandal takes inspiration from traditional Japanese styles, including a wooden platform cushioned by an ultra-soft veau velours insole, enclosed by white calf and thick yellow Full Moon straps that wrap around the ankle. Trying to keep a low profile on the scene Bibababy 35, in a stand-out yellow Full Moon groovy patent body, manages to stay somewhat covert thanks to a block Lucite heel.
Joining in the fête, a Louboutin Homme friend makes his way to the girls' room donning lug sole style Rossini Flat with its signature spiked cap toe in a vibrant Mini Alveole. Always prepared for an evening out, this Louboutin Homme swaps his loafers for oxford Crapamale, sporting dynamic multicolored broguing and two sizes of hand applied studs that summon the spirit of the dancefloor.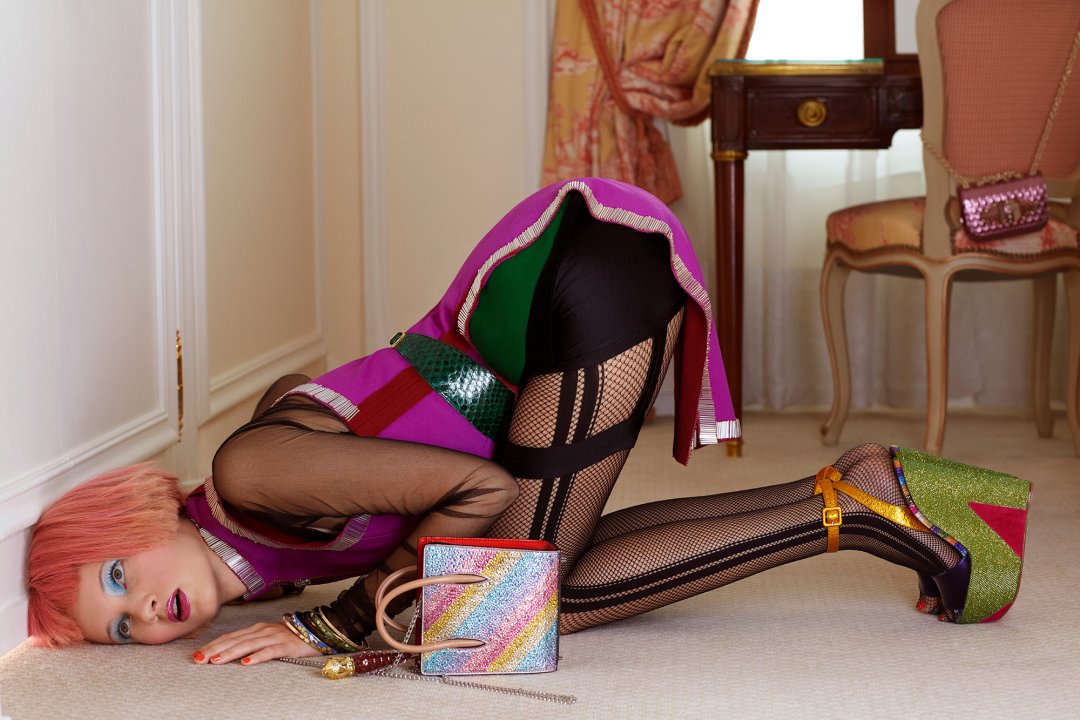 Amidst the pre-party fussing and adorning, trompe l'oeil pieces Shoepeaks clutch and flashy geometric platform Tromploia 160 distract the trio from the more nefarious goings-on outside the four walls of their suite. Abruptly unhinging the night, a loud, distressing thud echoed from the next room, startling the crew, turning their light-hearted celebration into a moment of suspense. Wary of what they might find, the friends take a peek under the door frame–– revealing a deadly secret! Explotek 100 appears in perilous black and white jagged geometric lines, hastily stashing the body of Belloffice, a distinguished gentleman decked in French-colonial inspired boots replete with a harness, burnished gold eyelets and a robust gold back chain.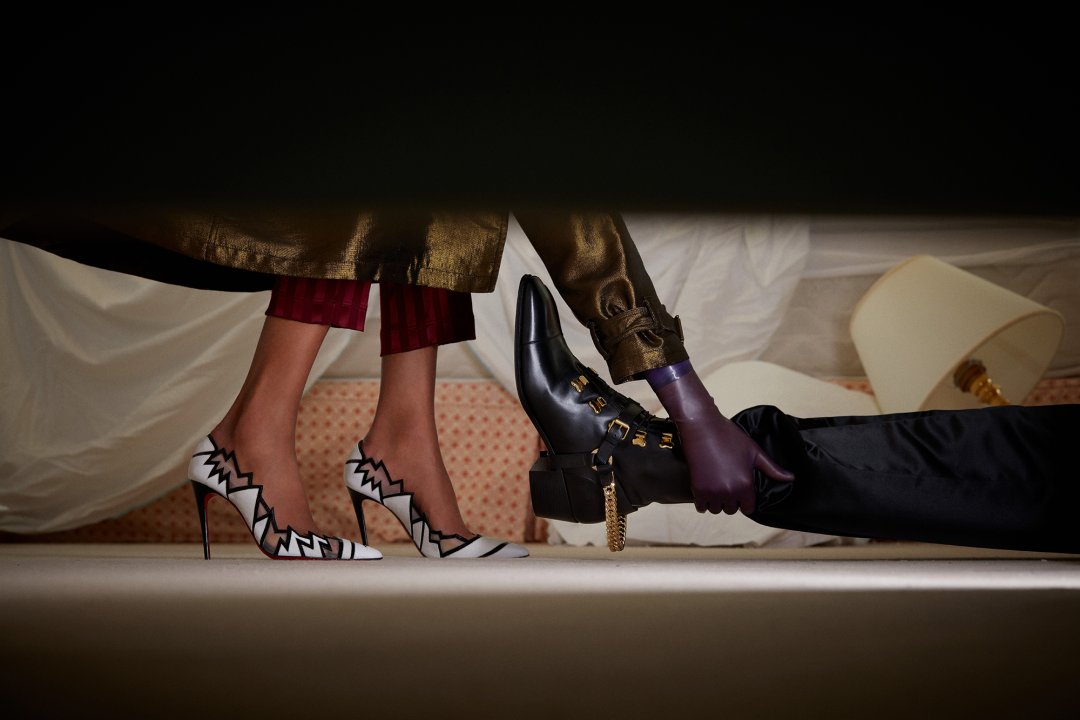 Frozen with fear, the group calls for backup from kitten heeled Oteraboot 55, who guides the way flashing a light of gold lame Sirene and a patent green Amazibua toe. Who Runs 70 boot gears up for the chase in a terrain-ready blue lug sole and a diverting mix of flashy Glitter Tisse Cassis, leopard pony and laminated leather. With their alibis intact, the group decides to pursue the hotel killer in hopes of catching the madwoman before she strikes again. Will the Louboutin clique be able to capture this deviant party crasher?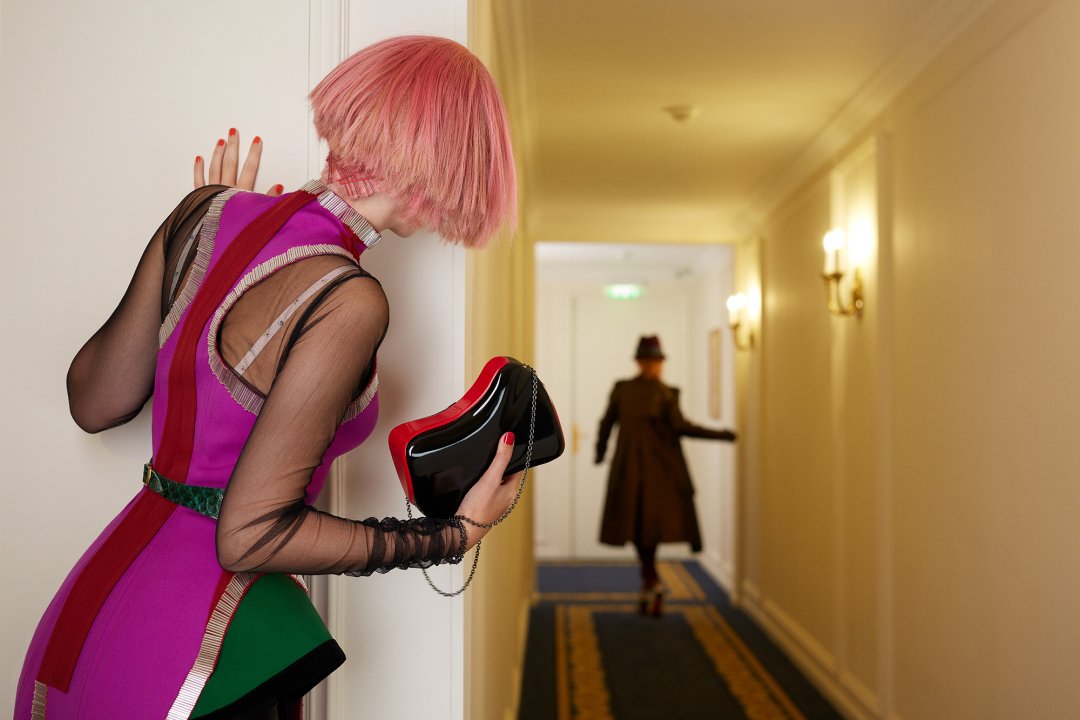 The hunt continues on ChristianLouboutin.com. Examine the entire Spring/Summer 2017 collection for Women and Homme in Christian Louboutin boutiques and online.